This USS Sunfish (SSN-649) website is dedicated to the men who served the United States aboard this able boat. Her undaunted crews were ever committed to ensuring freedom of the seas by maintaining a battle-efficient vessel. We're grateful for all that stood behind this submarine: from keel laying to decommissioning. The list includes shipyard and support personnel, and in particular the families that have endured many sacrifices in the interest of the US Navy's diverse missions.
There've been two US submarines named for the giant Ocean Sunfish, (Mola Mola). The first USS Sunfish SS-281 was a Gato-class diesel boat built by the Mare Island Shipyard in 1942 and the second USS Sunfish SSN-649 was a Sturgeon-class nuclear powered fast attack submarine built by General Dynamics at the Fore River Shipyard in Quincy, MA with the keel laying in 1965.
— Both boats are proud to have had a chance to be in the service of this great nation —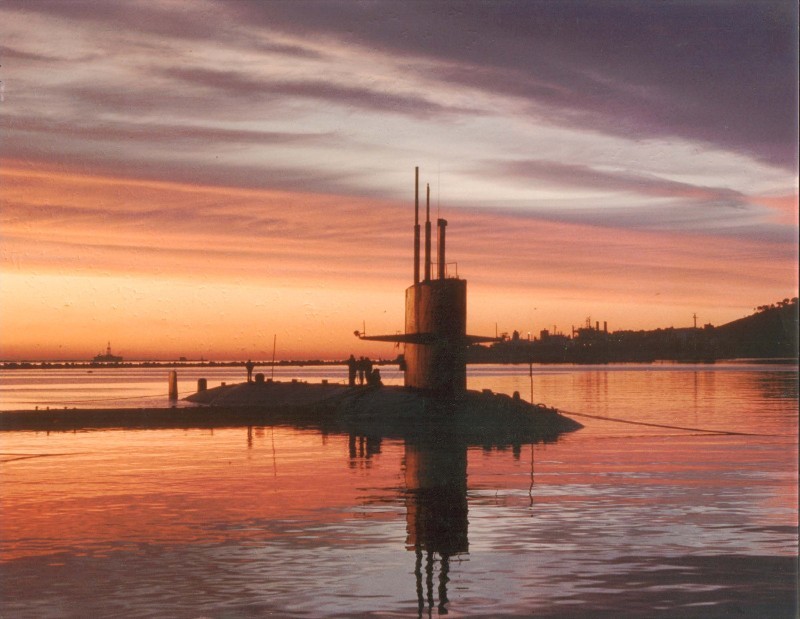 Keel laid by General Dynamics in Quincy, MA on January 15, 1965. Launched October 14, 1966 sponsored by Mrs. Robert C Byrd and commissioned March 15, 1969. The submarine was decommissioned on March 31, 1997 and disposal completed through the Submarine Recycling Program at Puget Sound Naval Shipyard on October 31, 1997.
USS Sunfish
SSN-649

Reunion Information
Attention All Sunfish Sailors and Families…
We enjoyed our 50th Anniversary of the Commissioning of the USS Sunfish SSN-649 reunion June 2019 in Norfolk, VA and our latest in Branson, MO in June 2021.
Our next REUNION will be held in Nashua, NH on June 14th - June 18th, 2023. We have reserved a Hotel for our reunion gathering:
The Double Tree by Hilton, Nashua
2 Somerset Parkway
Nashua, NH 03063
1-(603) 886-1200

You can make your reservation now by calling the hotel directly (Please let the hotel know you are with the USS Sunfish Reunion!) or register online with a special link for our group. The cost per night for the hotel is $131.00 plus tax. The cost will include a Banquet room for our Banquet on Saturday. There will be a cash Bar for the Banquet so we can't bring any alcohol of our own. The whole 8th floor is reserved for our hospitality area, and free parking, free Wi-Fi. The hotel is also allowing us to bring food and drinks to the 8th floor. You are allowed to bring your own alcohol into the hotel but must drink it on the 8th floor in the hospitality area, we're not allowed to walk around the hotel with alcohol beverages.
These are just a few things we are planning on doing:
There will be a breakfast bar out every morning on the 8th floor the cost will be $10.00 per person for the week (not every day just once.)
We will have food out on Wednesday registration day: cold cuts, cheese, fixings, chips, drinks, and dessert starting at 5:30pm.
We will be going to The Lobster Boat Restaurant for dinner one evening and everyone will pay for their own meal!
The Memorial Service will be held at the Thresher Memorial in Portsmouth NH. Then we'll go to the Albacore museum, store and tour of the Albacore.
Hope you all enjoy what we've planned for you! Keep checking back for updates.
The 2023 Reunion Itinerary and Registration Form are available for download. Please have Registration Form in by April 26, 2023 In order for us to give the Events a head count.
Sincerely
Steve and Penny Moreau

Steve and Penny Moreau,
USS Sunfish/ SSN -649
P.O. Box 946
Easthampton, MA 01027

Make sure that you keep checking back here for updates. You can join the Sunfish group on Facebook (Sunfish Vets) for another place to stay posted.
Each of the previous gatherings have been a memorable experience. Not only is it exciting when you run into shipmates from your time on the boat, but also great to meet Sunfish sailors from different eras and hear their 'stories'. Please pass the word to former crew with whom you have contact and encourage them to attend.
Hope to see you in Nashua !
We're continually hearing from additional Sunfish sailors so try to get in touch with those you knew and encourage the men to sign up. More than anything else, direct contact with your shipmates will get `em fired up about coming to the reunions. We try to keep a current sailing list so please write to the address at the bottom of the page with your updates, and give any general comments you might have. If you don't know the information needed to find someone you served with, drop us a line because we may be able to help get you connected. Don't forget to visit the log book by clicking on the button above and also read `Last Voyage of the USS Sunfish: The Closing of a Circle´ before you leave.